Ireland's Josh van der Flier and New Zealand's Ruahei Demant have been named World Rugby Men's and Women's 15s Player of the Year 2022 at the World Rugby Awards in Monaco on Sunday.
On a night to remember in the iconic Salle des Étoiles, a ceremony under the High Patronage of H.S.H. Princess Charlene of Monaco saw the greats of the game past and present and the rugby family celebrate the outstanding achievers of the year.
Van der Flier was named the World Rugby Men's 15s Player of the Year 2022, the third Irish winner after Keith Wood (2001) and Johnny Sexton (2018). He received the award ahead of three other nominees in Lukhanyo Am (South Africa), Antoine Dupont (France) and Johnny Sexton (Ireland).
New Zealand co-captain Ruahei Demant was at the heart of the Black Ferns journey to Rugby World Cup 2021 winners on home soil, a constant threat to opposing defences. She received the award ahead of four other nominees in team-mate Portia Woodman, Canada captain Sophie de Goede, England flanker Alex Matthews and France scrum-half Laure Sansus.
The recent Rugby World Cup-winning captain Demant said: "Like most of our team, and like many players in New Zealand, I come from a very, very small place. And to be able to put on the black jersey it was a dream. I never knew about the Black Ferns growing up as a kid. I guess like most women my age, women's rugby was never accessible, was never something that you kind of aspired to be like, because you never had role models like that to look up to. And that was one of the great things about this World Cup, it was free to air, so everyone could watch it. But people could turn on the TV or go to the games and see people that look like them and so many strong women out there doing amazing incredible things. We had a great bunch of girls who put their heart and soul and body on the line for everyone, regardless of whether or not they're playing. So we got the job done. But we also had a great time a lot of fun doing it as well."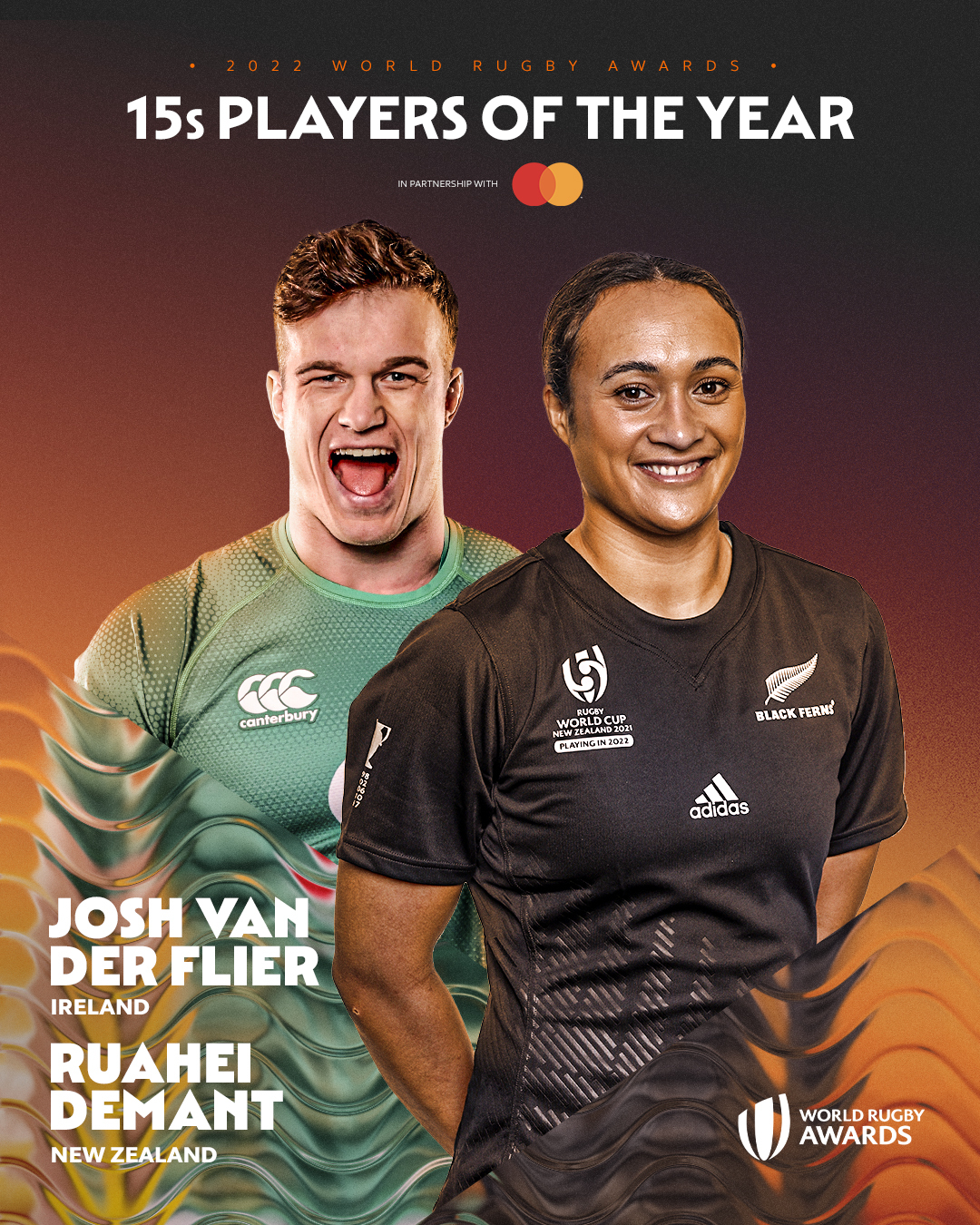 Josh van der Flier said: "I've been incredibly fortunate to have great teammates and coaches that have really pushed me on, as well as my wife and my family supported me a huge amount. I'm lucky to have some very experienced, top quality players and especially in my position both in Ireland and in Leinster, so I've always felt I've needed to be playing at my best the whole time or I wouldn't be playing, so that's certainly driven me on."
World Rugby Chairman Sir Bill Beaumont said: "On a special night, there was so much to celebrate about a remarkable 2022, but for me it was the power of personality that has stood out this year.
"Rugby World Cup 2021 and Rugby World Cup Sevens 2022 were shining examples of rugby's personality in action. The way that players engage with fans and their accessibility shows that high performance athletes can and should be themselves and have fun. They inspired, they moved and they played brilliant rugby.
"As a sport, we must harness and celebrate the power of personality if we are to grow, to be relevant and attract new audiences. In our award winners, we have superb role models, but by being accessible on social media, the next generation of players and fans can relate to them.
"Congratulations to all our award winners, but just as importantly, I would like to congratulate everyone who has played their part in getting our sport back up and running since the pandemic – the coaches, match officials, players, mums, dads and fans. Without you there is no sport."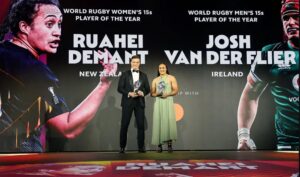 Images Sources
Twitter: @WorldRugby
Text Sources: